About Us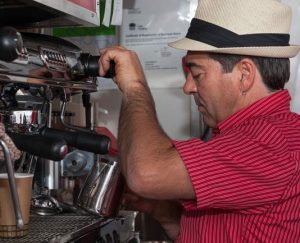 Steve and Vickie Asara are the coffee-loving couple behind Sardos Coffee and Caffe Mobilita.
Their Hunter Valley-based mobile coffee van business began trading in 2011, catering for events large and small, with a commitment to providing a consistently high standard of product and customer service.
Familiar faces at festivals, race meetings and sporting events, as well as private and corporate functions across the Valley, it wasn't long before the couple decided they wanted to expand the business to include creating their own unique coffee blend.
A labour of love, Steve and Vickie started distributing coffee locally under the Caffe Mobilita name. With demand growing and orders coming from across the state, in 2016, their Sardos Coffee brand was launched.
The Sardos name is a nod to Steve's Sardinian heritage, with the business logo penned in his father's own handwriting.
Sardos Coffee is taking orders now, so contact us today to see how your customers can enjoy a great coffee, every time.